2019/2020 Year End Review – Some of Our Achievements and Projects
In her Chairperson's Report to the Annual General Meeting Gwen Downie gave an overview of Forum's business, issues investigated and resolved, projects undertaken and proposals and plans for improved or well-maintained facilities and infrastructure in our district that have been presented to Council.
Gwen also explained how Forum meetings with Council and other Shoalhaven City Council CCBs and consultation between Council and community through Forum have fostered respectful, good working relationships that have facilitated and resulted in the enhancement of the lives of residents, visitors and the local environment, both natural and built.
SOME OF OUR ACHIEVEMENTS THIS YEAR
Streetscape- Opened July 2019. Forum was instrumental in having Council fully fund the master plan and complete the streetscape as one continuous work. Convinced Council to relocate  Big Green  Pots from heritage theatre forecourt to children's playground. (Master Plan on this  website ) 
Mural – Our History Our Heritage Project- Officially unveiled with  Streetscape Opening ceremony.Painted local artists  of renown. Funded by a Shoalhaven Arts Board Grant for- Public Art – A Sense of Place; our Chamber of Commerce, RSL and Lions Club.This Forum Project involved the financial, in-kind and practical support of many volunteers within our community and Sussex Inlet Public School children. Extra Lighting installed in Peace Park to illuminate mural and park.
Footpaths, Cycleways and Shared Pathways – Sussex Inlet and District Document-  This Planning Document, under the direction of Russell Neeves, charts and prioritises Forum's many proposed pathways to connect our district. The document is filed with Council ready for any grants or funding that might be applied to a proposal, whilst some have now been constructed.(on website)
Some recent and current projects in which Forum has played a major role:
* Chris Creek Shared User Pathway Bridge – Achieved
* Swan Lake Shared User Pathway Bridge – Cudmirrah – Requests, proposals and planning by the community have been ongoing for many years. November 2019 on site meetings with Council engineers. Council has funding  which involves undertaking a survey, more community engagement agency engagement and developing a concept design.- In active planning
* Pathway from Inasmuch to Seacrest – Forum had planned a community – constructed pathway for the lower section, however, Council now has funding for the complete length of the pathway, pedestrian  crossing  drainage works. –In active planning
*Pathway Nielsen Road to Ellmoos Avenue – A pathway connecting to paved path – Soon to be constructed
*Public Amenities Errol Bond Reserve, Cudmirrah and Chris Creek –Achieved
*Pedestrian Crossings–  two on Jacob's Drive -and one on River Road, Chris Creek – Achieved
COASTAL MANAGEMENT PLAN – ( Draft and Scoping Study)Forum made a submission on the scoping of the plan for our district and made strong representation of why Sussex Inlet  ought  be considered not just as an extension of St Geroges Basin as in past plans.Forum categorises tSussex Inlet as a diverse and multifaceted estuarine system of waterways and environments, including  canals, and Badgee Lagoon . Prior to the submission being presented, a meeting with the Mayor and Director of Planning and Environment was held to clarify some information.
The Forum CMP sub-committee later provided feedback on the Scoping Study Report that will inform the focus of the final plan. On-going engagement with process and plan
Salt Marsh Protection: Forum arranged and provided a public forum with representatives of  SCC, State Fisheries to inform the community of the facts and reasons for the proposal and to allow residents to discuss their concerns. An open on-site meeting followed so that actual areas could be identified and marked out and further queries responded to. One of the main concerns of nearby residents was the proposed installation of bollards to mark the margins of salt marsh  to be protected from mowing. This has been resolved – no Bollards low in-ground markers to be used instead. Resolved work to commence soon.
SUSSEX INLET and DISTRICTS STRATEGIC ACTION PLAN 12015-2030- This living plan has recently been reviewed and revised and the need for new or amended policies and priorities recognised, written and published . The impact and lessons learnt from the current bushfire experience will be considered and further inform the Plan. There is to be a Public Strategic Action Plan meeting in the near future. (Document available on this website)
BUSHFIRE  DEBRIEFING- In response to community concerns regarding lack of communication and local information during the fires, we held a Community Bushfire debrief and information session at our January Meeting. WE are most grateful to Graham Williams, RFS; Eileen Lynas and Sharron Williams Cudmirrah Berrara RFS and  Sandra Arnold, Red Cross Response and Recovery Coordinartor, Emergency Services Team NSW/ACT giving of their expertise, experience and time , not only in the fires, but to address the community and answer questions from the floor.
Gail Drummond
Cinema  and Park Landscaping                Pedestrian Crossing                      Streetscape Jacobs Drive
Walking Group on  Chris Creek Shared User Pathway Bridge – 2019
"Everyone is pleased with how much this has improved the walk- now we don't have to dodge cars while crossing Chris Creek."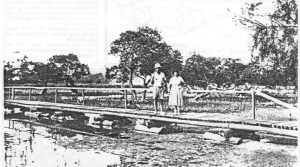 Sandy and Olive Graham on Chris Creek "Bridge"-  1950's