Streetscape Complete – Official Opening 13/7/19
STREETSCAPE OFFICIAL OPENING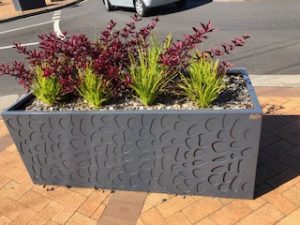 Shoalhaven City Council Mayor Amanda Findley officially opened the Sussex Inlet Streetscape on Saturday 13th July.
Council hosted a street party style celebration with the Sussex Inlet and DistrictsCommunity Forum to celebrate the offical completion of the works.
Mayor Findley said the upgrade to the Sussex Inlet town centre is a great asset for the community and gives a new appeal to the coastal town.
"The new facelift for Sussex Inlet is a great addition to this amazing town ship and I would like to thank the Sussex Inlet community for their great collaboration during the design phase and their patience during the construction period," said Councillor Findley.
"The new upgrade consists of footpaths, street furnishings and footpath verge plantings improving the overall aesthetics of the village."
In response Gail Drummond said that after decades of promises, plans and  the efforts of long past and present councillors and community members, the streetscape had been realised. The Sussex Inlet and District Strategic Action Plan 2015-2030 is at present being reviewed and revised and now the priorities of streetscaping and a mural can be noted as having been achieved, and those items can now have a tick against them in the in the 1996 Forum list of needs, plans and aspirations for our district.
On behalf of the members of the Forum/Chamber of Commerce streetscape working party, Gail thanked all Council staff and Departments and Councillors for the excellent working relationship they enjoyed with the team throughout the process of planning, implementation and completion.  She went on to say that Roslyn Holmes was to be congratulated on the design of the excellent town centre revitalisation and that the Forum Mural, Our History Our Heritage, was the town's contribution to the streetscape.
STREETSCAPE ONE STEP CLOSER and ONE STEP BACK
At the public meeting to the SCC Delivery Program and Operational Plans (DPOP), on 8th May, Forum secretary made representation to Council asking why there was no provision for Stage Two of the Sreetscape in the  the budget papers presented and put the case for provision of funds for its completion.
The minutes of the May 16th Shoalhaven City Council Strategy and Assets Committee Meeting, 16th May 2017 records that Forum again made a deputation to Council at that meeting and through a Budget Review, the Streetscape is one step closer to being completed in its entirety. The recommendation to fund the entire streetscape has yet to be ratified at an Ordinary Meeting of Council, however, the Forum is confident of a positive result and thanks those involved in bringing about this review and recommendation.
CLICK HERE to view plan – Sussex Inlet Streetscape Upgrade